Save Time and Money with an Intelligent SCADA RTU: DRACS-RTU-3100
Networks
Posted by: Lord & Company 6 years ago
At Lord & Company, we partner with clients to create and sustain industrial automation systems for operational water and wastewater treatment plants that meet exact design specifications and stringent, evolving EPA regulations. Our systems include high-quality components, open-architecture hardware, user-friendly HMIs, extensive documentation, useful analysis for all stakeholders, and comprehensive service.
SCADA systems are essential to successful operations, and there are three critical aspects that organizations with small- and mid-size operations should consider when implementing or considering upgrades to SCADA systems:
 
1. Consider the Connection
Traditional RTU systems use hard-wired serial connections. These connections require the RTU hardware and software to undergo constant upgrades and software updates for security. Constant updates bog down systems and hinder operation.
However, there is another solution. The DRACS-RTU-3100 is an intelligent SCADA RTU solution for industries like municipal water and wastewater. The DRACS-RTU-3100 uses cloud-based communication for constant communication rather than requiring local hardware and software updates. With seamless communication capabilities through remote smartphone/tablet access, expandable I/O capabilities, and a UL-508A control panel, the DRACS-RTU-3100 is an efficient, scalable, proven solution for an RTU.
2. Use Functional Hardware
Experience with hundreds of water and wastewater applications has given us the insight to understand the most pressing needs of municipalities. Our teams use proven, off-the-shelf hardware to create reliable and efficient process automation and SCADA systems specifically for water and wastewater plants and communication networks. Using COTS hardware keeps costs down and maintenance simple.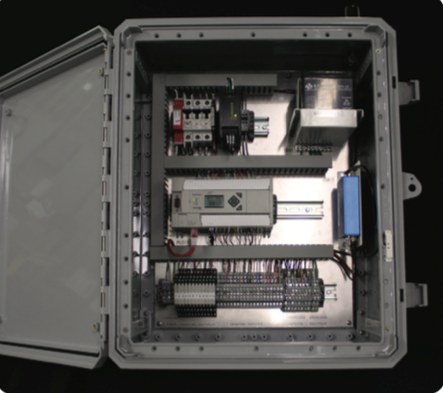 The DRACS-RTU-3100 features a rugged NEMA 4x construction and is made with reliable, industrial-grade components for durability in all water and wastewater applications. In addition, it operates with low power consumption and includes a 12+ hour battery backup.
Standard I/O with the platform consists of:
• 20 Digital inputs (dry contact)
• 12 Digital outputs (relay dry contact)
• 4 Analog inputs (4-20 mA DC Inputs at 500 Ω impedance)
• 2 Analog outputs (0 – 10 VDC)
Other options include additional analog input cards, additional analog output cards, alarm indicators, and external high-gain antenna.
The platform also features a standard HMI display when used in conjunction with SMS SCADA. The two platforms combined create a total solution for data communication between a monitored system and the operator. The HMI available with SMS SCADA allows the user to receive data, control, alarms, and status updates through a user-friendly interface.
3. Choose an Experienced Partner
Our applications are already prevalent in the water and wastewater industry, and because of its rugged construction, ease of use, and reliability, the DRACS-RTU-3100 is also ideal for other industries, including:
• Industrial Processes
• Material Handling Systems
• Mining
• Network Fault Management
• Power Regeneration
At Lord & Company, our clients are the success story – through successful SCADA and automation systems, we provide high-quality, life-saving data that allows clients to impact their communities. We know that changes like a shift to the DRACS-RTU-3100 take time, and our teams work to complete implementations and testing within just weeks. We also support our systems with engineering and field teams after installation.
You May Be Interested In: