Modernize Your Monitoring Equipment With the 2+2(s) Compact Cellular Transceiver
Technology
Posted by: Lord & Company 6 years ago
The new Lord & Company 2+2(s) LC 300 is a compact cellular transceiver for monitoring equipment that sends real-time alarms and status updates via an online portal. There's no need to wait for updates via an auto-dialer or other outdated technology – the transceiver uses cellular signals to instantly send information.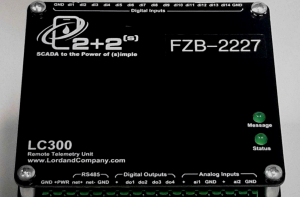 In addition to alarming on status changes, the system keeps track of on-time and digital input cycles to help when monitoring pump, fan, or compressor run-times and duty cycles. Its analog inputs can alarm on high or low conditions and are useful for monitoring temperatures, pressures, tank levels or flow rates. Additionally, the unit monitors input power voltage and provides a battery backup, enabling it to alarm on the main power voltage level or failure and continue operating without main power.
The 2+2(s) sends real-time data to an online portal, displaying the location and operating status for your monitored equipment. If desired, you can set up the portal to immediately send updates/alarms via SMS text, messages, and emails. It permanently logs every event, providing valuable historical data that you can analyze via powerful built-in reporting features. View the video demo below for a walk-through of the hardware and online portal, which demonstrate the breadth of the 2+2's capabilities.
If you're ready to learn how the 2+2(s) can meet your specific needs, contact us today.
You May Be Interested In: